At Kool Breeze Farms in Summerside PEI, we know what it means to garden. We share your excitement in seeing the first blooms of Spring, the smell of freshly cut grass or the taste of a carrot pulled from the ground. We understand the pride in creating a beautiful landscape and the contentment of a job well done. We can tell you what trees grow best, what shrub goes where and how to deal with that problem area. From the smallest seeds to the tallest trees and everything in between, you'll find them here along with the knowledge it takes to grow them. Because your success is our success. We are The Green Thumbs People.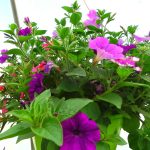 Garden Center Hours
March Hours:
Monday thru Saturday 9AM to 5PM
Location
231 Read Drive
Summerside, PEI
Da Mama's Kitchen
Fish & Chips, PEI beef burgers, fresh Cut Fries, and more!
902 436 4858